Latest News
Here is what you need to know
News Articles
1 1st National Conference of Primary Dental Health
The Pakistan Dental Association Karachi will organise 1st NATIONAL CONFERENCE ON PRIMARY DENTAL HEALTH 26th -27th, OCTOBER 2013 VENUE: DOW INTERNATIONAL OJHA CAMPUS.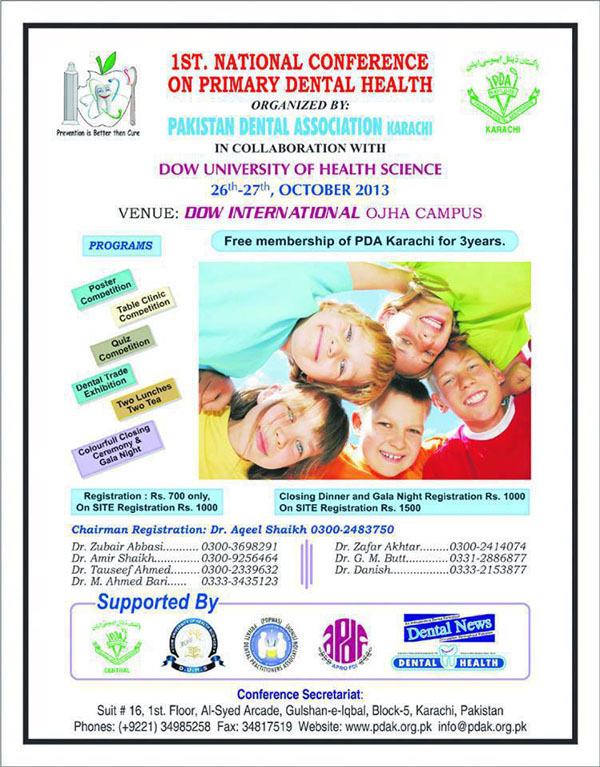 2Western dental hospital and dental laboratory has been awarded for the ISO
9001:2008 registration
M/s Western Dental Hospital and Dental Laboratory, Karachi has been awarded for the ISO 9001:2008 registration to provide better quality services and dental laboratory products to their clients. We would like to mention as well that we are the first ISO certified dental laboratory in Pakistan.
335th International Dental Show
The world's leading trade fair for the dental sector
IDS 2011 in Cologne is the world's leading trade show and sector meeting place for decision-makers from dental practices, dental labs, the specialist dental trade, the dental industry and from research and development. Round about 118,000 visitors gather information on new products and innovations from 1,954 exhibitors from 58 countries. For more information please click
here
44th Sadaf Dental Congress to be held in Lahore
Karachi — Pakistan Dental Association (Central Council) arranged the launching ceremony of its 4th SADAF Dental Congress at a local hotel recently. It was attended by prominent dental professionals who were invited as a part of a Core Committee for the proposed Congress, scheduled to be held in March 2013 at Expo Centre, Lahore. Inaugurating the ceremony, Prof (Dr) Waheed ul Hamid, assured his full support to the Congress as Principal of de'Montmorency College of Dentistry as well as in his capacity as President of Pakistan Dental Association (Central).

He requested all the participants to become part of the core committee which will be responsible for running all the organizational matters of the Congress. All participants agreed to the suggestion of Dr. Arham Nawaz Chohan to involve every section, group and Institution of Lahore, in particular and of Pakistan, in general.On this occasion, a working group comprising Dr Wasif Ali Khan and Dr Arham Nawaz Chohan, was formed to discuss and suggest the names for the organising committee from amongst those proposed for the Core Committee. The working group after a detailed discussion gave its report suggesting the names for the following committees.
Organising Committee:
Prof (Dr) Waheed ul Hamid (Chairman), Dr. Ghafeer Ahmad Malik and Dr. Aslam Sheikh (vice chairmen) and Dr. Arham Nawaz Chohan (Secretary).
<![if !supportLineBreakNewLine]>
<![endif]>
Scientific Committee:
Prof (Dr) Moghees Baig (chairman) and Prof (Dr) Abid Asher (vice chairman) will form the full scientific body. It was, however, unanimously agreed to include Dr. Ayyaz Ali Khan and Dr Samad in the committee.
Registration Committee:
Dr. Wasif Ali Khan (Chairman) and Dr. Hafiz Shakir Mehmood (Vice Chairman).

Trade and Exhibition Committee:
Dr. Asif Ali Shah and Dr. Rana Zafar Iqbal will be chairmen of the committee and they have been assigned the task of naming members of the committee.

Finance Committee:
Dr Abdus Sattar (Chairman) and he will form the body of the committee.

Reception Committee:
Dr. Amjad Ali Khan (Chairman) and Dr. Khurrum Ata Ullah (Vice Chairman).

Publication Committee:
Prof (Dr) Qasim Saeed (Chairman) and Dr. Aqib Sohail (Vice Chairman).

Cultural and Entertainment Committee:
Dr. Asim Farooqi (Chairman) and Dr. Babar Subzwari (Vice Chairman).

Transport, Accommodation and Tourism committee:
Dr. Adrees Shiekh ( Chairman) and Dr. Mustafa Chaudhri, Dr. Attique and Dr. Babar Sajjad (Vice Chairmen).

The I.T., website work and Congress matters will be supervised by Dr. Wasif Ali Khan and Dr. Arham Nawaz Chohan.The report was approved by the core committee after detailed discussion. The participants of the meeting decided that the Congress dates should be fixed as March 1-3, 2013, the Core Committee's next meeting be arranged with all Principals, Ex-Principals and senior Professors of dental colleges and they be included in Advisory body of the Congress. It was also decided on the occasion that a meeting should also be arranged with DTMA and all prospective sponsors of the Congress while JEO and Jung network, Dental News network also be invited to become media partner of the Congress.

It also resolved that the core committee must meet after every two weeks.Earlier, the PDA's general secretary, Dr. Wasif Ali Khan, in his welcome address, requested the participants to join hands to make the Congress successful. Dr Ghafee Ahmed Malik gave vote of thanks.
5Mouth Breathing can cause Major Health Problems
For some, the phrase "spring is in the air" is quite literal. When the winter snow melts and flowers bloom, pollen and other materials can wreak havoc on those suffering from seasonal allergies, usually causing a habit called "mouth breathing." The physical, medical and social problems associated with mouth breathing are not recognized by most health care professionals, according to a study published in the January/February 2010 issue of General Dentistry, the peer-reviewed clinical journal of the Academy of General Dentistry (AGD). Dentists typically request that their patients return every six months, which means that some people see their dentist more frequently than they see their physician. As a result, dentists may be the first to identify the symptoms of mouth breathing. And, because dentists understand the problems associated with mouth breathing, they can help prevent the adverse effects. 
"Allergies can cause upper airway obstruction, or mouth breathing, in patients," said Yosh Jefferson, DMD, author of the study. "Almost every family has someone with mouth breathing problems." 
Over time, children whose mouth breathing goes untreated may suffer from abnormal facial and dental development, such as long, narrow faces and mouths, gummy smiles, gingivitis and crooked teeth. The poor sleeping habits that result from mouth breathing can adversely affect growth and academic performance. As Dr. Jefferson notes in his article, "Many of these children are misdiagnosed with attention deficit disorder (ADD) and hyperactivity." In addition, mouth breathing can cause poor oxygen concentration in the bloodstream, which can cause high blood pressure, heart problems, sleep apnea and other medical issues. 
"Children who mouth breathe typically do not sleep well, causing them to be tired during the day and possibly unable to concentrate on academics," Dr. Jefferson said. "If the child becomes frustrated in school, he or she may exhibit behavioral problems." 
Treatment for mouth breathing is available and can be beneficial for children if the condition is caught early. A dentist can check for mouth breathing symptoms and swollen tonsils. If tonsils and/or adenoids are swollen, they can be surgically removed by an ear-nose-throat (ENT) specialist. If the face and mouth are narrow, dentists can use expansion appliances to help widen the sinuses and open nasal airway passages. 
"After surgery and/or orthodontic intervention, many patients show improvement in behavior, energy level, academic performance, peer acceptance and growth," says Leslie Grant, DDS, spokesperson for the AGD. "Seeking treatment for mouth breathing can significantly improve quality of life." 
At this time, many health care professionals are not aware of the health problems associated with mouth breathing. If you or your child suffers from this condition, speak with a health care professional who is knowledgeable about mouth breathing.
6Oral Health of Diabetes Patients Closely Linked to Heart Disease and Cancer Risk
According to researchers in the report "Oral health awareness in adult patients with diabetes: a questionnaire study", published in the latest issue of the British Dental Journal (BDJ), several individuals who suffer with diabetes are not aware that their oral health is closely connected to their risk of developing complications. 
The authors say that inflammation from gums that are swollen can increase the severity of diabetes, increase deaths from oral cancer as well as pre-malignancies, and make cardiovascular disease worse. They also explained that diabetes that is longstanding and poorly controlled seems to speed up the development of gum disease. If gum disease is untreated, it can lead to loss of teeth. 
However, a survey of that consisted of 229 adults visiting a diabetes clinic, discovered that the majority were unaware of any connection between dental health and their condition. Only 13% of participants were aware that swollen or tender gums could be affected by the disease, or vice versa, and only 12% knew there might be a connection between the disease and loose teeth. 
The investigators from Warwick Medical School said:
"Dental and oral self-care tasks were rated as less important than other diabetes self-care tasks, such as taking prescribed medication or having regular eye checks. Around one-third of patients rated daily flossing as the least important health related activity."
Commenting on the discoveries, the British Dental Association (BDA)'s Scientific Adviser, Professor Walmsley, explained:
"This study adds to the growing body of evidence linking oral health to general health and well-being. It's important that healthcare professionals, dentists included, make people with diabetes more aware of this link.
Brushing teeth twice a day, every day, with a fluoride toothpaste, flossing daily and seeing the dentist regularly will go a long way to protect teeth and gums and, it seems, reduce the risk of developing complications from diabetes."
The BDA hopes the development of a novel, outcomes-focused contract in England, (pending the results of pilots launched earlier this month), will make it more simple for dentists to take on a more preventive approach to dental care.
7Health of Gums Improves with weight loss.
Case Western Reserve University School of Dental Medicine researchers found the human body is better at fighting gum disease when fat cells, which trigger inflammation, disappear.
Findings come from a pilot study of 31 obese people with gum disease. Half of the group with an average body mass index (BMI) of 39 had gastric bypass surgery and had fat cells from the abdomen removed. That half fared better than a control group of obese people with a BMI of 35 who also were treated for gum disease but did not have the gastric bypass surgery or fat removed.
What intrigued the researchers is that the majority of those who underwent surgery had a drop in their glucose levels after the procedure, a result that bodes well for overweight people predisposed to diabetes and insulin-related problems.
All study participants underwent nonsurgical periodontal treatments of scaling/root planning and oral hygiene instructions for home care. While both groups showed improvement, the surgery group did even better on the measures for periodontal attachment, bleeding, probing depths and plaque levels.
Inflammation that continues to brew in the body can have harmful effects over time, and inflammation from gum disease can erode bone and cause tooth loss. It can also cause breaks in the gums where harmful oral bacteria can enter the blood stream. Such bacteria have been linked to preterm birth, fetal death, heart disease, diabetes and arthritis, said Nabil Bissada, chair of the department of periodontics at Case Western Reserve School of Dental Medicine.
Bissada is the lead author of the study, "Response to periodontal therapy in subjects who had weight loss following bariatric surgery and obese counterparts: a pilot study," published in the Journal of Periodontology.
This study raises two hypotheses about why the surgery group improved.
The first theory is that excessive fat cells (adipocytes) secrete more cytokines (such as TNF and IL-6), which make insulin more resistant to doing its function. As a result, more accumulation of sugar in the blood (hyperglycemia) occurs. Losing weight, therefore, makes insulin less resistant and improves the diabetic status. This in turn helps in the response to periodontal treatment.
The other theory relates to the presence of the leptin hormone that regulates appetite. Leptin plays a role in regulating metabolism and has been linked to inflammation by increasing the production of cytokines and the -C-reactive protein, which is also linked to inflammation. Bissada said leptin production was reduced after bariatric surgery and may be one explanation for the better outcomes in the periodontal treatment.
As the researchers look to the further their research, their next step will be to conduct a longitudinal study to support their preliminary findings.
8PAKISTAN DENTAL ASSOCIATION 10th INTERNATIONAL & 30th NATIONAL DENTAL CONGRESS
Welcome to PDA Congress
On behalf of Organizing Committee of the PDA Congress, it is indeed our honour and privilege to receive you all in our beautiful country for the PDA 10th International & 30th National Dental Congress to be held in Karachi.
We intend to bring state of the art knowledge and cutting edge dental technology under a single roof.  Outstanding internationally recognized speakers in all fields of dentistry have been invited to Pakistan for a three day marathon of knowledge in a nutshell. Our pre and post congress workshops would provide a deeper understanding into current treatment modalities.
Key Importance needs to be given to the ever increasing needs & demands of dental academics. This Congress will provide an ideal forum to asses the needs of the upcoming dental generations.
The congress will play a vital role towards encouraging the incorporation of R&D (Research & Development). This will prepare the dentists and the Para dental staff to cope with the challenges of the future.
Our Trade Exhibition is going to be a huge collection of suppliers; these exhibitors have long term affiliation with dental profession and had been continuously working for the betterment of dental profession.
Social & Cultural events will attract the attention of local and international participants to make their stay enjoyable and memorable.
Come visit us, and let us share with you the beauty and the vibrancy of our country and our people.  Our social traditions are steeped in a culture of hospitality which you will thoroughly enjoy & cherish for along time.
Dr. Mahmood Shah
PATRON
---
Prof. Dr. Navid Rashid Qureshi
CHAIRMAN
---
Dr. Kashif Ikram
SECRETARY GENERAL
Log on www.pdacongress2012.com
9American Heart Association. "Risk Of Heart Attack, Stroke May Be Decreased By Professional Dental Cleanings."
Professional tooth scaling was associated with fewer heart attacks and strokes in a study (Abstract 17704) from Taiwan presented at the American Heart Association's Scientific Sessions 2011.
Among more than 100,000 people, those who had their teeth scraped and cleaned (tooth scaling) by a dentist or dental hygienist had a 24 percent lower risk of heart attack and 13 percent lower risk of stroke compared to those who had never had a dental cleaning. The participants were followed for an average of seven years.
Scientists considered tooth scaling frequent if it occurred at least twice or more in two years; occasional tooth scaling was once or less in two years.
The study included more than 51,000 adults who had received at least one full or partial tooth scaling and a similar number of people matched with gender and health conditions who had no tooth scaling. None of the participants had a history of heart attack or stroke at the beginning of the study.
The study didn't adjust for heart attack and stroke risk factors - such as weight, smoking and race - that weren't included in the Taiwan National Health insurance data base, the source of the information used in the analysis.
Protection from heart disease and stroke was more pronounced in participants who got tooth scaling at least once a year," said Emily (Zu-Yin) Chen, M.D., cardiology fellow at the Veterans General Hospital in Taipei, Taiwan.
Professional tooth scaling appears to reduce inflammation-causing bacterial growth that can lead to heart disease or stroke, she said.
Type of periodontal disease predicts degree of risk for heart attack, stroke, and heart failure
In a separate study (abstract 10576), researchers found that the value of markers for gum disease predict heart attack, congestive heart failure and stroke in different ways and to different degrees.
Anders Holmlund, D.D.S., Ph.D. Centre for Research and Development of the County Council of Gävleborg, Sweden, and senior consultant; Specialized Dentistry, studied 7,999 participants with periodontal disease and found people with:
Fewer than 21 teeth had a 69 percent increased risk of heart attack compared to those with the most teeth.
A higher number of deepened periodontal pockets (infection of the gum around the base of the tooth) had a 53 percent increased risk of heart attack compared to those with the fewest pockets.
The least amount of teeth had a 2.5 increased risk of congestive heart failure compared to those with the most teeth.
The highest incidence of gum bleeding had a 2.1 increased risk of stroke compared to those with the lowest incidence.
109th ACOMS at Kuala Lumpur, Malaysia
The 9th Asian Congress on Oral & Maxillfacial Surgery (ACOMS) was held at Kuala Lumpur Convention Centre (KLCC). KLCC is a purpose built convention centre under the shadows of the famous Kuala Lumpur landmark, the Petronas Tower. The conference began on the 25th  and lasted untill 28th November 2010. This event is held every 2 years by the Asian Association of Oral & Maxillofacial Surgeons. The 2010 event was held in collaboration of the Malaysian Association of Oral & Maxillofacial Surgeons. The very well organized conference was attended by more than 750 delegates from around the world. Like all times before, there  was tremendous effort made by the local organisers, the Trade Exhibition, Poster Display of 173, with 6 posters from Pakistan. Plenary Lectures, and invited talks etc.
The Conference was innaugrated by the King of Malaysia His Majesty Seri Paduka Baginda Yang di Pertuan Agong & Her Majesty Seri Paduka Baginda Permaisuri Agong. The Innaugral was followed by a roll-call of nations, a custom practised at all OMS meetings and a Cultural performance. Notable speakers included Prof. M Anthony Pogrel (US), Prof. Robert A Ord (US), Prof. Brent Ward (US), Mr. Andrew Brown (UK), Prof. Piet Haers (UK), Mr. Robert Woodwards (UK), Miss. Maire Morton (UK), Prof. Malcolm Harris (UK), Prof. St. John Crean (UK), Prof. van der Wal (Netherlands), Prof. David Precious (Canada), Prof. Julio Acero (Spain), Prof. Ralf Schon (Germany), Prof. Andre Eckardt (Germany), Prof. Riitta Suuronen (Finland), Prof. Chen-Ping Zhang (P R China), Prof. S M Balaji (India) and Prof. Moni Abraham Kuriakose (India) etc. Dedicated scientific sessions were held on maxillofacial trauma, facial aesthetics, craniofacial surgery and cleft lip & palate, orthognathic surgery, dental implants, obstructive sleep apnoea, head and neck oncology and pathology and maxillofacial reconstruction and rehabilitation.
Prof. Syed Mahmood Haider, Dr. Noor ul Wahab and Dr. Adnan Aslam attended the conference from Pakistan. They were joined by Dr. Moghees Baig from Qatar. Prof. Haider was invited by the organisers to Chair a session on facial aesthetics on the first day of the conference. The next meeting of the AAOMS will be held in Bali in 2012, Prof Haider hopes to raise a larger Pakistani contingent for that event in order to bring this conference to our shores.
11Seminar on Cross Infection Control at LMDC
Lahore: Lahore Medical & Dental College actively promotes continuing educational seminars of the faculty members and staff for improvement of clinical and teaching skills.
Dr. Kashif Hafeez recently visited Pakistan and agreed to hold seminar at Lahore Medical and Dental College (LMDC) Lahore, on 14th December 2010. Prof Aqib Sohail gave brief introduction about Dr. Kashif Hafeez (BDS, MFDRCSI, FFDRCSI). Dr Aqib invited Dr. Kashif for delivering the lecture. The topic of seminar was on cross infection control. Dr Kashif discussed about cross infection, different protocols and methods for cross infection control in clinical dentistry. Final year students, house surgeons, postgraduate trainees, senior registrars and demonstrators attended the lecture alongside faculty members. Later, Prof. M. Rafique Chatha, Principal, Dental section , LMDC presented souvenir of the college to Dr. Kasif Hafeez and appreciated the knowledgeable and informative seminar.
12Dental surgery may cause heart attack
DN Monitoring Desk
LONDON: It appears that certain types of dental surgery may raise the risk of heart problems.
There have been previous links detected between various forms of gum disease and an increased risk of heart attack, which is why this study is not that far fetched to believe.
Researchers analyzed health data pertaining to a group of patients who had undergone various forms of dental surgery.
They determined that within 4 weeks of surgery the risk of heart attacks and strokes was the highest, with the risk dwindling as time passed.
"This is the first sign of increased risk for heart attack or stroke after a dental procedure," co-author Dr. Francesco D'Aiuto, a dentist and researcher at University College London Eastman Dental Institute, said.
"This is not to say that this will happen with every dental procedure, but we are saying we need to look more into it."
The study can be found in the Annals of Internal Medicine.